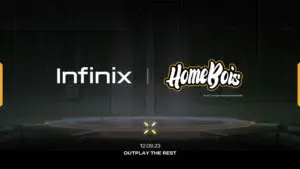 A well-known Malaysian esports team called Homebois and Infinix Malaysia are proud to announce their partnership. The Homebois team will be among the innovators at the much awaited debut of the Infinix GT 10 Pro in Malaysia, which is made possible by this exciting relationship. To the utmost extent possible, the team will extensively test the Infinix GT 10 Pro's capabilities, living up to the phrase "Outplay The Rest."
"With a global presence spanning more than 30 countries, our brand's steadfast dedication lies in forming meaningful connections with our local Xfans here in Malaysia. The passion for MLBB within our community designates it as their preferred mobile gaming sanctuary. As the highly anticipated launch of the game-changing Infinix GT 10 Pro draws near, we are excited to announce our collaboration with Homebois, a prominent force in Malaysia's top-tier MLBB scene. This partnership exemplifies our core values of merging innovation and community, paving the way for an era of unparalleled excellence in mobile gaming," said Carmen Yong, Marketing and GTM Director of Infinix Malaysia.
Homebois is Malaysia's a well known esports gaming team, founded by Nureddy Nursal also goes by DaddyHood. Homebois has embarked on an impressive journey marked by triumphant victories in numerous tournaments, thereby establishing a strong presence within the competitive landscape of Mobile Legends: Bang Bang. Infinix Malaysia and Homebois strive to inspire and empower mobile gamers, urging them to transform their dedication and passion into professional careers in the dynamic realm of esports.
Our collaboration with Infinix is a partnership that holds immense promise for the gaming community. Infinix's strong vision and strategic focus in the gaming industry align seamlessly with our aspirations. We believe that their commitment to excellence and innovation will propel us towards our shared goal of establishing ourselves as a leading gaming brand in Malaysia, said Nureddy Nursal (DaddyHood), Founder of Homebois.
The Infinix GT 10 Pro features a powerful Dimensity 8050 Gaming 5G that delivers exceptional performance and smooth gameplay. Also paired with clean and Pure OS with no Bloatware, an optimised user interface, it provides a fluid and responsive user experience, making navigation and multitasking effortless. It is also equipped with Ultra Graphics Powered by All-Sensory Game Engine ensuring uninterrupted gaming and elevating the sensory experience to unprecedented heights, making it the ideal choice for showcasing professional gaming skills.
Stay tuned for more updates of Infinix epic collaboration with Homebois and Infinix GT 10 Pro on Infinix official Facebook page, Instagram page and Tiktok channel.
#OutplayTheRest
#InfinixMalaysia
#GT10Pro
Penafian!
– Artikel yang disiarkan dan dikongsi di laman web MyPermohonan serta artikel berkaitan dengan
"MALAYSIA INFINIX FOR A GAME-CHANGING EXPERIENCE, JOIN FORCES WITH HOMEBOIS."
adalah ringkasan daripada sumber asal. Pihak kami tiada kaitan dengan agensi kerajaan, syarikat ataupun pengeluar posting asal. Untuk maklumat lanjut sila ke halaman
Penafian
.