SELANGOR, 6 OCTOBER 2023 – Leader Energy forges MOU with BMW Malaysia to Enhance Electric Vehicle Charging Leader EV Solutions partners with BMW Malaysia for Enhanced EV Charging Experience BMW Malaysia Collaborates with Leader EV for Improved Vehicle Charging Network Leader Energy and BMW Malaysia Join Hands to Boost EV Charging Infrastructure BMW Branding to Grace Leader EV's Galaxy Charge Network in Collaborative Effort Joint Campaigns by BMW Malaysia and Leader EV to Promote Vehicle Charging Leader Energy: Pioneering Sustainable Power Solutions and EV Infrastructure BMW Malaysia and Leader Energy Unite to Drive Progress in Electric Vehicle Charging
Under the MOU, Leader EV will be responsible for the development, installation, operation and maintenance of the Galaxy Charge network. In addition, Leader EV is to actively promote and create awareness on electric vehicle charging technology while BMW is to fulfil the access of public charging solutions via a subscription or members programme through Leader EV's Galaxy Charge network.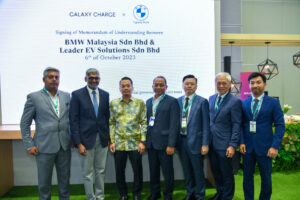 Leader Energy's Executive Deputy Chairman, Dato' Sean H'ng said, "We are excited to embark on this journey with BMW Group Malaysia to further enhance the use and charging of electric vehicles through Leader EV's Galaxy Charge network in Malaysia. With the consistent growth trajectory of Malaysia's Electric Vehicles ("EV") market, we anticipate higher demand for EV charging stations in the near future. Through this collaboration, we believe that we will be well-positioned to capture a larger share of the market with our EV charging infrastructure. Our charging projects on the North-South Highway is a stepping stone platform in growing our network across Malaysia. With the collective efforts of both parties involved, we are very optimistic in achieving a mutually beneficial outcome from this collaboration."
Head of Corporate Communications and Sustainability at BMW Group Malaysia, Sashi Ambi said, "As the leading provider of premium EVs in Malaysia, we are always looking out for strategic partnerships to drive the development of a thriving EV ecosystem forward. Our latest initiative with Leader Energy exemplifies both our shared commitments towards enhancing public access to charging infrastructure nationwide and alleviating range anxiety, especially on a long-distance journey. With this MOU, we look forward to expanding our charging network of over 1,000 facilities even further and providing our customers with a complete premium EV ownership experience."
Penafian!
– Artikel yang disiarkan dan dikongsi di laman web MyPermohonan serta artikel berkaitan dengan
"Leader Energy and BMW Group Malaysia Sign MOU for Advancement"
adalah ringkasan daripada sumber asal. Pihak kami tiada kaitan dengan agensi kerajaan, syarikat ataupun pengeluar posting asal. Untuk maklumat lanjut sila ke halaman
Penafian
.