SELANGOR, 6 OCTOBER 2023 – In this strategic collaboration, Leader Energy Holding Berhad ("Leader Energy") and Solarvest Holdings Berhad ("Solarvest") will pool their expertise and resources to explore and drive sustainable initiatives across the Southeast Asia ("SEA") region. This partnership aims to contribute significantly to the advancement of sustainability within the energy sector and beyond. Leader Energy, along with its subsidiaries and jointly controlled entities, holds a prominent role in the independent power producer sphere, specializing in the development, ownership, operations, and maintenance of power assets and projects.
Under the MOU, the collaboration will primarily focus on the exploration and development of renewable energy, including solar energy, battery energy storage systems, Energy-as-a-Service, as well as other sustainable energy applications. The partnership aims to leverage on the expertise of both parties to deliver innovative solutions within the SEA region and ultimately contribute to the achievement of net-zero emissions goal.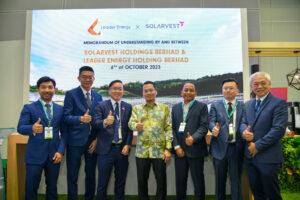 Leader Energy's Executive Deputy Chairman, Dato' Sean H'ng said, "We are grateful to explore the opportunity to collaborate with Solarvest. Considering the ongoing decarbonisation efforts in the SEA region, where numerous countries have set ambitious net-zero targets, this potential collaboration enables us to bolster our footprint in the region. It will position us well to capture untapped opportunities with new green technologies within the region and maximise our contribution towards our net-zero emissions goal. With the collective efforts of both parties, we are optimistic of achieving a fruitful outcome from this collaboration."
Solarvest's Executive Director and Group Chief Executive Officer, Mr. Davis Chong Chun Shiong, said the collaboration is the latest step in the company's efforts to be a leading clean energy leader in the region. "Southeast Asia is arguably the most exciting region in the world now, with a relatively young, newly affluent, and increasingly eco-conscious consumer population. We are excited to be working with Leader Energy to deliver new and exciting energy solutions to a much broader group of consumers. Indeed, this collaboration is very well aligned with Solarvest's own 5-Year Strategic Roadmap, aimed at positioning the company as an expert on clean, regenerative energy."
Penafian!
– Artikel yang disiarkan dan dikongsi di laman web MyPermohonan serta artikel berkaitan dengan
"Leader Energy and Solarvest Unite to Pursue Regional Growth Prospects"
adalah ringkasan daripada sumber asal. Pihak kami tiada kaitan dengan agensi kerajaan, syarikat ataupun pengeluar posting asal. Untuk maklumat lanjut sila ke halaman
Penafian
.