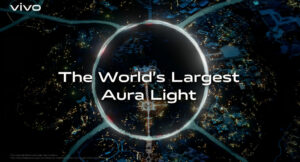 The world's largest roundabout, the legendary Putrajaya Roundabout, will play host to a stunning event organized by vivo Malaysia and Aktiv Tuninghaus. Just two days left until the official unveiling of the vivo V29 5G smartphone, which will be accompanied by this unique effort that intends to enliven the enormous roundabout.
In celebration of Malaysia Day, vivo Malaysia created a special video honouring the country's landmark. At 9:29pm, a fleet of 29 Porsche cars elegantly circle the Putrajaya Roundabout for 29 laps, mirroring the design and features of the vivo V29 5G, notably showcasing the largest Aura Light in the V series – Aura Light 2.0.
The Aura Light 2.0 technology in the vivo V29 5G enhances night portraits by automatically adapting the colour temperature to achieve a natural and well-balanced look under various lighting situations. Additionally, the phone's design is truly eye-catching, featuring a stunning starry purple colour created with 9 million magnetic particles on the back, resembling the captivating pattern of the Milky Way. This unique design is certain to attract those seeking something visually distinctive.
Building on the success of the vivo V27 series launched in April 2023, vivo Malaysia is introducing the latest addition to the V series, the vivo V29 5G. As the countdown to the launch of vivo V29 5G continues, the excitement builds. Stay tuned for more updates on vivo official Facebook page and vivo Malaysia official Website for the latest updates 
Penafian!
– Artikel yang disiarkan dan dikongsi di laman web MyPermohonan serta artikel berkaitan dengan
"For the debut of the Vivo V29 5G, the Porsche Fleet illuminates the world's largest roundabout, revealing the spectacle."
adalah ringkasan daripada sumber asal. Pihak kami tiada kaitan dengan agensi kerajaan, syarikat ataupun pengeluar posting asal. Untuk maklumat lanjut sila ke halaman
Penafian
.