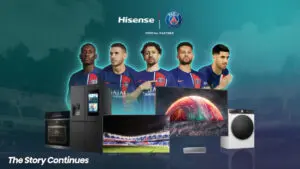 The consumer electronics and appliance manufacturer Hisense has extended its sponsorship of Paris Saint-Germain for a further two years. The agreement between the two groups, which they signed in August 2020 to start their global alliance, is in effect until the end of the 2024–2025 campaign.
Hisense has cemented its place as a global leader in technology for the home in the last two decades, which is the result of a long-term commitment it has shown to some of the world's most loved sporting properties, which include the FIFA World Cup 2022™, as well as its newly announced sponsorship to the UEFA EURO 2024™. The extension of Hisense's partnership with Paris Saint-Germain is a further illustration of this and will see the company double down on its mission to improve the viewing experience for football fans around the world.
Throughout its partnership with the Parisian club, Hisense TV now comes with an in-built Sports Mode as standard. On top of this, Hisense has released three adverts starring Paris Saint-Germain players since the commercial relationship was first agreed, the most recent of which, launched in March 2023, earned over 106m impressions and 48.3m views. By partnering with the Parisian club, Hisense can count on one of the largest communities in world sport, with over 200 million followers, to attract new customers through innovative campaigns.
"We are delighted to be continuing our adventure with Hisense, a company that shares our philosophy. Innovation is at the heart of our collaboration and our determination to continue enriching the experience of our customers and fans beyond the screen." said Marc Armstrong, Chief Revenue Officer of PAris Saint-Germain
Catherine Fang, Executive Vice President, Hisense International, added  "The relationship with Paris Saint-Germain represents an integral part of Hisense's wider sports strategy, bringing happiness to millions of families through technological innovation and delivering perfect TV quality to consumers in Europe. We believe that through this partnership, we can continue to create the best possible at-home viewing experience for the Parisian club and its fans throughout the world."
Benefiting from a high-performing sports strategy, Hisense precipitated a 21.05% year-on-year increase in TV sales worldwide in the first half of the year. Hisense will continue providing consumers with extraordinary experiences while watching games with families and friends. The renewal of this partnership will enable us to continue to offer Paris Saint-Germain fans the best possible viewing experience worldwide.
Penafian!
– Artikel yang disiarkan dan dikongsi di laman web MyPermohonan serta artikel berkaitan dengan
"HiSense and Paris Saint-Germain Celebrate the Growing Scope of Their Alliance"
adalah ringkasan daripada sumber asal. Pihak kami tiada kaitan dengan agensi kerajaan, syarikat ataupun pengeluar posting asal. Untuk maklumat lanjut sila ke halaman
Penafian
.