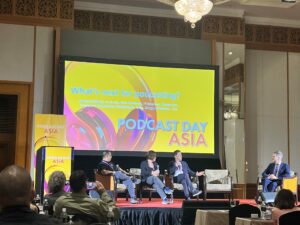 By serving as the third consecutive host of the RadioDays Asia (RDA) 2023 Conference, Malaysia achieved significant strides in the business events industry. Over 300 people from 30 countries in the Asia-Pacific region and beyond attended this year's edition of RDA, a famous event in the broadcasting business.
The two-day event was organised by RadioDays Europe and supported by Malaysia Convention & Exhibition Bureau (MyCEB). RDA 2023 provided a vital platform for industry leaders, broadcasters, podcasters, and audio enthusiasts to explore trends, innovations, and challenges, including AI's role in shaping the industry's future. Participants actively engaged in discussions, sharing valuable insights and experiences from their respective stations, businesses, and podcasts. 
MyCEB's Acting CEO, Mr. Zain Azrai Rashid said, "RDA is an integral part of the Radiodays Europe family, renowned for organising the largest radio, audio, and podcast conferences in Europe. This affiliation further cements Malaysia's position as an ideal destination for hosting business events, fostering collaboration, innovation, and knowledge exchange on a global scale. RDA 2023 stands as a testament to Malaysia's dedication to driving the evolution of audio and radio in the Asia-Pacific region and beyond," 
"RDA 2023 is the 120th out of 177 business events supported by MyCEB this year. The event is estimated to have generated RM4.9 million in economic impact. We continue to uphold the agency's pivotal role in facilitating and supporting business events in Malaysia, contributing to the nation's growth as a global event destination," he continued. 
"We have chosen Malaysia as the destination of choice has proven time and time again that it can meet our needs as a world-class venue. This vibrant nation perfectly aligns with the radio industry's dynamic spirit, making it an ideal destination to cultivate international synergy in the audio realm. Whether it is the centrality of the location, the food, the culture and most importantly the hospitality, we are happy to be back for the third time," complimented Anders Held, Project Director and Founder of RadioDays. 
Penafian!
– Artikel yang disiarkan dan dikongsi di laman web MyPermohonan serta artikel berkaitan dengan
"A contribution to Asia's media industry is made by Malaysia's Radiodays Asia 2023."
adalah ringkasan daripada sumber asal. Pihak kami tiada kaitan dengan agensi kerajaan, syarikat ataupun pengeluar posting asal. Untuk maklumat lanjut sila ke halaman
Penafian
.