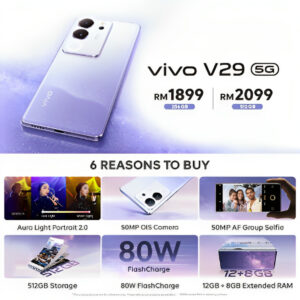 The vivo V29 5G, which sets new standards in smartphone photography with its sophisticated Aura Light Portrait 2.0, has been officially unveiled, according to vivo Malaysia. The vivo V29 5G is the best portrait flagship smartphone, according to these five more convincing reasons, in addition to Aura Light Portrait 2.0:
Aura Light Portrait 2.0
The vivo V29 5G introduces Aura Light Portrait 2.0, an upgraded version of its predecessor, and boasts a larger 15.6 mm diameter light ring equipped with a smart colour temperature adjustment feature. Using AI to detect surroundings, this feature ensures that your facial appearance remains balanced and natural, perfect for capturing moments even in varying lighting conditions.
50MP OIS Camera
The vivo V29 5G features a 50 MP OIS Ultra-Sensing Camera with a large 1/1.57-inch sensor, enabling exceptional low-light photography. Through Quad Bayer technology, it achieves a pixel size of 2.0 μm, enhancing light capture in darker settings and delivering clearer, sharper night images. Combined with OIS technology, it minimises blurring, ensuring high-quality shots even in challenging lighting.
50MP Auto Focus Group Selfie:
Elevate your group selfies with the vivo V29 5G's 50 MP HD Camera, boasting a 92° wide angle for the front camera, Auto Focus, and EIS stabilisation. This ideal field of view strikes a balance for single-person selfies, prevents distortion, and allows for group photos or videos, including more friends and family members in a single frame

Massive 512GB Storage:
The vivo V29 5G sets a new standard in vivo's V series, offering an impressive 512GB storage capacity. Ample space to store all memories, apps, and files, ensuring users never have to compromise on what matters to them
80W Flashcharge + 4600mAh Battery:
Stay charged with the 80W Flashcharge and a 4600mAh battery. Say goodbye to long charging times and hello to extended usage, ensuring users can power through their day without worrying about the low battery issues.
12GB+8GB Extended RAM:
The vivo V29 5G ensures seamless multitasking, allowing users to run multiple apps effortlessly with 12GB of RAM, extendable up to 8GB. Experience smooth performance and efficiency, enhancing overall smartphone usage.
The vivo V29 5G is now available in Malaysia at an unbeatable price of RM1899 (12+256GB) and RM2099 (12+512GB), making it the perfect choice for those seeking exceptional smartphone photography capabilities and aesthetic design.
Stay up to date with the latest promotions and product specifications at vivo Malaysia's facebook page and vivo Malaysia's official website
Penafian!
– Artikel yang disiarkan dan dikongsi di laman web MyPermohonan serta artikel berkaitan dengan
"USE THE VIVO V29 5G'S SIX ADVANCED FEATURES TO GET THE BEST PORTRAIT EXPERIENCE."
adalah ringkasan daripada sumber asal. Pihak kami tiada kaitan dengan agensi kerajaan, syarikat ataupun pengeluar posting asal. Untuk maklumat lanjut sila ke halaman
Penafian
.