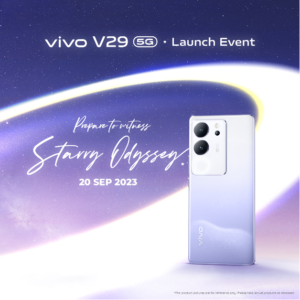 Vivo Malaysia has formally verified that the highly anticipated vivo V29 5G launch on September 20 will take place in Malaysia. The event, which is broadcast on the vivo Facebook page, goes beyond the usual smartphone introduction since it fuses cutting-edge technology with opulent high fashion.
Captivating Night Portraits: Discover Aura Light 2.0 on vivo V29 5G
The vivo V29 5G brings noteworthy improvements, notably the introduction of its innovative Aura Light 2.0. This upgrade known as Aura Light 2.0, revolutionizes the approach to capturing captivating night portraits. With its larger aura light size and enhanced light absorption capabilities, users can anticipate outstanding low-light photography outcomes. 
Another unique addition is the Smart Colour Temperature Adjustment feature, which adjusts any facial tones to match the ambient light conditions, guaranteeing any selfies taken will consistently appear both natural and impeccable. Available in an eye-catching Starry Purple color scheme, the back of the phone features a mesmerizing purple gradient tint and an intricate pattern formed by 9 million magnetic particles, resembling diverse states' starry skies in Malaysia. 
Celebrities Galore: vivo V29 5G Launch Set to Dazzle
The launch event for the vivo V29 5G assures the presence of a variety of renowned celebrities who will attend the occasion and witness the introduction of the vivo V29 5G. With the captivating fusion of technology and fashion, it wouldn't be overstating to characterize this event as the pinnacle fusion of tech and style.
Stay tuned to vivo's official Facebook  page for more updates, live streams, and behind-the-scenes glimpses of this extraordinary event on 20 September, 2023.  
Penafian!
– Artikel yang disiarkan dan dikongsi di laman web MyPermohonan serta artikel berkaitan dengan
"The VIVO V29 5G will be formally introduced on September 20, 2023 combines innovation, style, and celebrity"
adalah ringkasan daripada sumber asal. Pihak kami tiada kaitan dengan agensi kerajaan, syarikat ataupun pengeluar posting asal. Untuk maklumat lanjut sila ke halaman
Penafian
.