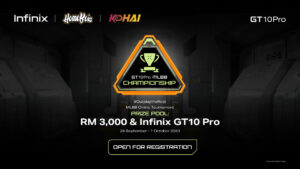 Infinix Malaysia has officially announced the GT 10 PRO MLBB Championship, which will occur from September 26 to October 1 2023. This exciting contest occurs at the same time as the launch of the Infinix GT 10 PRO and a successful collaboration with Homebois and Kohai, signaling a significant turning point.
Infinix is steadfast in its commitment to fortify the gaming community by offering an arena within the esports realm through this tournament. Their collaboration with Homebois, a renowned MLBB esports team in Malaysia, and Kohai, a dedicated platform established for gamers, aims to empower gamers to transform their passion into professional gaming careers.
The GT 10 PRO MLBB Championship is centred around the most popular online game, Mobile Legends: Bang Bang (MLBB), further unveiling Infinix's acknowledgement of esports gamers' interests and passion in Malaysia. This event is a remarkable gateway for gamers to embark on a journey towards professional gaming and challenge themselves to elevate their skills to greater heights.
To all gaming enthusiasts who are interested in participating in this exciting tournament, the recruitment stage begins from 14 September till 21 September, 2023.There are two methods for participants to join this online tournament;
Method 1
Step 1: Like and Share this post with #OutplayTheRest
Step 2: Follow Infinix Malaysia on Facebook and Instagram
Step 3: Comment below, "We are PRO team!" and tag 4 more team members 
Method 2
Step 1: Download the Kohai gaming app on your smartphone 
Step 2: Play MLBB on the Kohai app
Step 3: Achieve Top 8 score (Combat Arena) from 14 September to 20 September 2023
The tournament offers an array of exclusive prizes for the winning teams, including a grand prize of RM1,200 in cash along with five (5) units of the GT 10 PRO, a second prize of RM1,000, and a third prize of RM800. 
For more information on the GT 10 PRO MLBB Championship go to Infinix Malaysia's official Facebook page. To learn more about  Infinix's recently launched GT 10 PRO, check out Infinix Malaysia's official Facebook page, Instagram page, TikTok channel  and website.
#OutplayTheRest
#InfinixMalaysia
#GT10Pro
Penafian!
– Artikel yang disiarkan dan dikongsi di laman web MyPermohonan serta artikel berkaitan dengan
"PLAN TO OUTPERFORM THE REST IN THE INFINIX GT 10 PRO MLBB CHAMPIONSHIP."
adalah ringkasan daripada sumber asal. Pihak kami tiada kaitan dengan agensi kerajaan, syarikat ataupun pengeluar posting asal. Untuk maklumat lanjut sila ke halaman
Penafian
.