In September, ZUS Coffee stores around the nation will begin offering an exciting cooperation between Pepsi and ZUS Coffee, so get ready for a caffeinated adventure. The Pepsi Sour and Pepsi Cloud drink variants, which promise a delightful and varied taste and enrich your regular coffee experience, are now available to coffee enthusiasts thanks to a partnership between Pepsi and ONE.
In a never-before-seen collaboration, the creative minds of Pepsi and ZUS Coffee have worked together to brew something special where opposite flavors unite: the Pepsi Sour, a clever twist on the classic combination of Pepsi and coffee that is refreshing and invigorating with hints of zestiness, making it the perfect pick-me-up drink for any time of the day. The collaboration will also feature Pepsi Cloud, a delicious creation and a nostalgic nod to classic vanilla float sodas, with a modern twist that combines the bold flavors of Pepsi and Velvet Creme, a ZUS Coffee special touch that will tantalize taste buds and leave visitors craving more. These drinks are not just about combining two distinct flavors, but fusing two worlds into one extraordinary taste that will transform your regular coffee experience.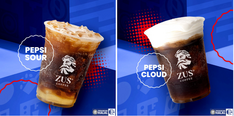 These two exclusive drink variants will launch in stores on September 25, 2023. Prior to the exclusive launch in stores, the two drinks were also available for pre-launch purchase on September 22, 2023, from 290 stores nationwide via Grab. Grabfood users will be able to get early access by clicking on the special section via the For You section on the app.
Adding to the excitement coffee enthusiasts will experience in conjunction with the drink launch, Pepsi and ZUS Coffee will also introduce a unique interactive element that will entice customers. At selected ZUS Coffee stores, a boldly designed vending machine will be available for customers to stand a chance to unlock a Limited Edition ZUS x Pepsi Merchandise, a fusion of the creative forces behind Pepsi and ZUS Coffee. The selected ZUS coffee stores with vending machines are located in Mid Valley, IOI Rio City, University Kebangsaan Malaysia (UKM), Cheras Leisure Mall, Kota Damansara, Sri Gombak, IOI Conezion, and Section 13, Shah Alam.
To stand a chance of collecting the Limited Edition ZUS x Pepsi merchandise, customers can do so through two easy methods. They can simply collect the merchandise as a gift via purchase on the ZUS Coffee App or the vending machine in selected stores!
If customers want to get it as a gift via the ZUS Coffee App, all they would need to do is purchase a minimum of RM30 in a single order and select the pickup option. They only need to make sure that one of the drink orders is the Pepsi ZUS Coffee variant.
For those who want to experience the vending machine in selected stores for a chance to get the Limited Edition ZUS x Pepsi merchandise, all you have to do is purchase two drinks and choose from the variants to obtain a unique code. Scan the code to participate in a challenge to receive the Limited Edition ZUS x Pepsi merchandise once you successfully complete it!
Etika's Vice President of Marketing, Amy Gan, said, "Pepsi is thrilled to be partnering with ZUS for an extraordinary collaboration to bring our customers a one-of-a-kind brew through Pepsi Sour and Pepsi Cloud that will intrigue your taste buds. This partnership with ZUS Coffee is a bold, unique initiative that allows us to create a flavor innovation like never before. Through the creativity of research, we have merged two very different types of beverages, which we hope will bring excitement to Malaysians nationwide."
ZUS Coffee's Vice President of Growth & Marketing, Stephy Foong, said, "It's ZUS Coffee's honor to work with a multinational brand like Pepsi to bring exciting flavors to the Malaysian community and create a wave, not only on everyone's taste buds, but in beverage innovation, as innovation and community are two things that we hold very close to heart at ZUS Coffee, and we're glad to have Pepsi as a partner on this journey."
The Pepsi and ZUS Coffee collaboration will run from September 22 to October 22, 2023, giving coffee enthusiasts ample time to head to any of ZUS Coffee's outlets to savor the refreshing flavors of Pepsi Sour and Pepsi Cloud!
Take advantage of this exclusive collaboration designed to ignite your taste buds as you discover the bold flavors of Pepsi and coffee combined. Visit us at selected ZUS Coffee outlets nationwide.
Penafian!
– Artikel yang disiarkan dan dikongsi di laman web MyPermohonan serta artikel berkaitan dengan
"PEPSI AND ZUS COFFEE HAVE JOINED FORCES TO CREATE TWO NEW BOLD BEVERAGE SENSATIONS THAT WILL EVELATE YOUR COFFEE EXPERIENCE."
adalah ringkasan daripada sumber asal. Pihak kami tiada kaitan dengan agensi kerajaan, syarikat ataupun pengeluar posting asal. Untuk maklumat lanjut sila ke halaman
Penafian
.