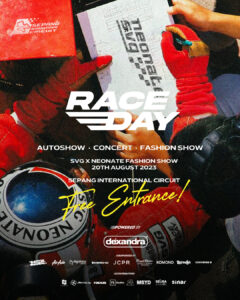 The highly anticipated Kuala Lumpur Fashion Week 2023 will take place this month, and as fans of these two homegrown brands and consumers have begun to notice, two major local streetwear brands have entered into an exciting partnership that will ultimately result in their grand debut as collaborators to unveil a new collection. The Neonate X SVG performance, dubbed "Race Day," is scheduled to take place at Sepang International Circuit (SIC) in Sepang on August 20, 2023, before the official KLFW23 program, which will begin the following day, August 21, 2023.
Neonate and SVG started their campaign in June to tease their fans on the collaboration creating an internet meltdown. "The open call for new models drew an astounding number of participants during its 2 day session. More than 700 new faces from all over the country turned up for the casting. From this, we narrowed down the number and shortlisted 77 fresh talents we perceive as the best to represent the vibe of both brands and the upcoming collection" says Karl Shafek, Founder and Creative Director of Neonate Clothing Company. Echoing Karl's sentiment, Ashraf Anuar, Founder of the current powerhouse of the Malaysian streetwear scene, SVG Worldwide added, "In July, the models attended a Model Camp under the mentorship of Tinie, Malaysia's top model who have worked with a myriad of local and international designers. It is truly a crash course with a super tight timeline that requires their full commitment".
Held on 7 August 2023 at Tasik Titiwangsa in Kuala Lumpur, Street Glare is a street photography gathering that was first organised last year as initiated by Neonate. This year, together with SVG and the expert guidance of Hishamudin Hashim or Abeden, a well respected photographer, and his team (TKDNXV), the program was taken to a new level. The event witnessed the attendance of more than 100 photographers, videographers and content creators who took the rare opportunity to learn the basics of street photography from Abeden using the 77 models as their subject matter.
In addition, Karl stated, "Motormaniac, as partner for the campaign, brought along several show cars for the photoshoot, including the beastly 'Godzilla' Nissan GTR R35 and the stylish Nissan GTR R34 in royal blue, among others. Proton stands as another esteemed partner of ours and Proton's involvement shines brightly. The Street Glare event culminated in a captivating group photoshoot, spotlighting the striking presence of the Proton X50. Neonate and SVG are also grateful and would like to acknowledge Komono Malaysia and Converse Malaysia for their support by sponsoring accessories, namely sunglasses, watches, and sneakers for the models to use and incorporate into their personal styles during the photoshoot. We must also give a massive shoutout to KLFW especially its Founder, Mr Andrew Tan for his continuous support, leadership and commendable initiatives to elevate the Malaysian fashion industry". Endorsed by KLFW, other partners of the Neonate X SVG activation campaign are Sepang International Circuit, De'Xandra Perfume, AirAsia, Royale Chulan Hotels & Resorts, Motormaniac, Bateriku, Prestige Medispa Malaysia, JCPR, Converse, Komono, Hausboom, MZone Studio and Majalah Remaja.
For Ashraf Anuar, this experience has been both overwhelming and enlightening at the same time. "SVG is a first time participant of anything related to KLFW which is literally the biggest fashion event in the country and known to be one of the best in the region. Though off-schedule, the fact that it will gain attention of the KLFW fraternity towards SVG as a new player justifies the hardwork. For us, the collaboration and the events organised to support the partnership truly encapsulates the spirit of the streetwear scene, that is to bring fashion and its community together; and elevate each other in more ways than one. We are proud to be part of this and can't wait to show everyone the collection that we have ideated and produced".
RACE DAY by Neonate X SVG will be shown for the first time on 20 August 2023 at Sepang International Circuit in Sepang. There will be a mini carnival on ground at SIC on event day to keep guests entertained before the main show. Follow them on social media via @neonate.company @svgwrldwide to receive latest news and announcements. RACE DAY is an open invitation event and the public may attend the the evant as no entrace fee will be charged.
Penafian!
– Artikel yang disiarkan dan dikongsi di laman web MyPermohonan serta artikel berkaitan dengan
"NEONATE AND SVG WORLDWIDE PARTNERS WILL HOST THE "RACE DAY" FASHION SHOW AT THE SEPANG INTERNATIONAL CIRCUIT ON 20TH AUGUST 2023"
adalah ringkasan daripada sumber asal. Pihak kami tiada kaitan dengan agensi kerajaan, syarikat ataupun pengeluar posting asal. Untuk maklumat lanjut sila ke halaman
Penafian
.