In acknowledgment of their exceptional achievements at the prestigious sporting events, Malaysian medalists at both the upcoming 2022 Asian Games and the 2022 Asian Para Games in Hangzhou will receive the newly released Huawei smartwatch as a token of appreciation.
The smart watches were presented to Youth and Sports Minister YB Hannah Yeoh during the Flag Handing Ceremony for the Malaysian Contingent recently at the Banquet Hall of the National Sports Council. The event was graced by Dato' Seri Dr Wan Azizah Dr Wan Ismail, wife of Prime Minister Dato' Seri Anwar Ibrahim and also the Bandar Tun Razak MP.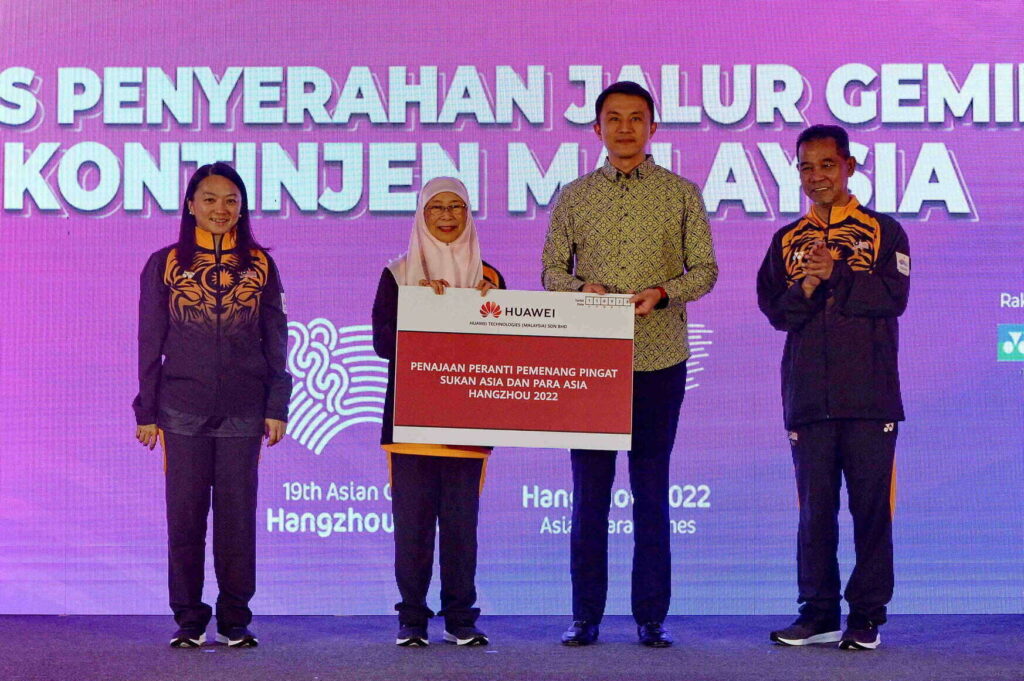 "We hope this will be the start of many more meaningful collaborations and support from Huawei to assist us especially in exploring technology assistance to further elevate the performance of our national athletes," said YB Hannah Yeoh.
Sponsored by Huawei Technologies (Malaysia) Sdn Bhd (Huawei Malaysia), the smart watch that will be awarded to each medal winner is slated for a worldwide launch on September 14 in Barcelona, Spain.
"The athlete's journey is filled with hard work and sacrifice. It is also a journey where technology now has an essential role to play in assisting athletes with training and preparing for competitive sports. It is an honour for Huawei Malaysia to present these gifts to the winning athletes in recognition of their excellence at a prestigious sporting event," said Mr Simon Sun, CEO of Huawei Malaysia.
The soon to be launched Huawei Smart Watch features cutting edge applications in health, fitness and sports management for users and is a culmination of a 10-year journey that began in 2014 for the leading global provider of information and communications technology (ICT) infrastructure and smart devices.
Malaysia will be represented by 289 athletes and 145 officials who will be competing in 22 sports involving 141 events at the Asian Games from September 23 to October 8. Malaysian Wushu Federation president Dato' Chong Kim Fatt leads the contingent as its Chef de Mission (CDM).
Meanwhile, current Vice President of Taekwondo Malaysia K.M. Rajendran is the CDM leading the national contingent in the Asian Para Games from October 22 to 28. There will be 115 Malaysian para athletes supported by 43 officials who will be competing in 14 sports involving 105 events.
Penafian!
– Artikel yang disiarkan dan dikongsi di laman web MyPermohonan serta artikel berkaitan dengan
"MALAYSIAN ATHLETES WHO WIN MEDALS AT THE 2022 ASIAN GAMES AND ASIAN PARA GAMES WILL RECEIVE HUAWEI SMART WATCHES"
adalah ringkasan daripada sumber asal. Pihak kami tiada kaitan dengan agensi kerajaan, syarikat ataupun pengeluar posting asal. Untuk maklumat lanjut sila ke halaman
Penafian
.