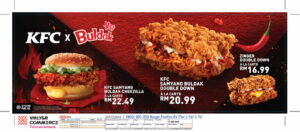 In response to the incredible demand from its loyal fan base, KFC is pleased to announce the reintroduction of the beloved Zin
Starting from 24 October 2023, KFC is taking the Zinger Double Down experience to new heights with an exciting collaboration: KFC x Buldak. Introducing the Samyang Buldak Double Down and Samyang Buldak Cheezilla, locally conceptualised creations that are bound to set taste buds ablaze.
The Zinger Double Down, known for its "all meat, no bun" concept, has been reinvented with the bold and fiery flavours of Samyang Buldak. The Samyang Buldak Double Down amps up the heat with a one-of-a-kind Samyang-coated noodles and Buldak hot sauce creating an innovative experience consisting of various flavours and textures all in one bite.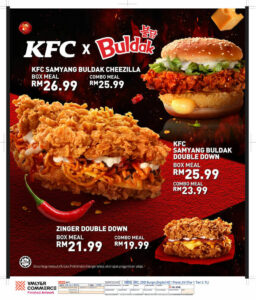 For those craving an extra layer of richness, the Samyang Buldak Cheezilla is the perfect combination of cheese and spice featuring a crispy Zinger fillet drenched in Buldak hot sauce and a Mozzarella Cheese Patty.
"The Zinger Double Down has always been a fan favourite, and we're thrilled to bring it back with a twist. The fusion with Samyang Buldak adds a new level of spice and indulgence. This all-new pairing is sure to give customers an exciting meal experience," said KFC Malaysia's Chief Marketing Officer Premnath Unnikrishnan.
Don't miss out on the spicy extravaganza – head to your nearest KFC starting 24 October 2023, and  treat your taste buds to the ultimate fusion of heat and flavour.
ger Double Down. This iconic "all meat, no bun" burger is about to make a massive comeback with a whole new twist.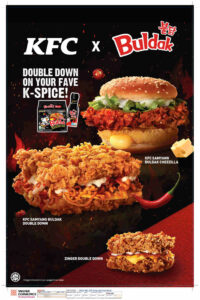 Penafian!
– Artikel yang disiarkan dan dikongsi di laman web MyPermohonan serta artikel berkaitan dengan
"KFC DOUBLES DOWN ON A FINGER LICKIN GOOD TIME BY SERVING THE ZINGER DOUBLE DOWN WITH A SPICY TWIST."
adalah ringkasan daripada sumber asal. Pihak kami tiada kaitan dengan agensi kerajaan, syarikat ataupun pengeluar posting asal. Untuk maklumat lanjut sila ke halaman
Penafian
.