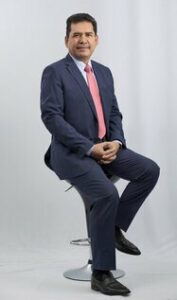 Dato' Sri Dr. Abdul Khani Daud, the non-profit organization's chief executive officer, will retire as a government officer on April 21, 2023, according to a statement released by Malaysia Convention & Exhibition (MyCEB). With his retirement, Dato' Sri Dr. Abdul Khani will end a spectacular 38-year career in the tourism and business events sectors.
Dato' Sri Dr. Abdul Khani, the former Director General of Islamic Tourism Centre from 2018 – 2020 played a pertinent role in spearheading efforts to develop a Muslim-friendly Accommodation Recognition programme and created global awareness on Malaysia as tourism destination for Muslim travellers. He is also a pioneer in the tourism sector where he began his career in Tourism Malaysia (TM) in 1985 until he was promoted to Acting Director General. As he earned his stripes at TM, he was posted as an overseas Director to undertake global markets which include Tourism Malaysia's offices in Australia, Singapore, South Africa and Thailand. His outstanding expertise in marketing is proven by an increase of 60% tourist arrivals from Singapore between year 2000 to 2004. During his service period, a 45% growth for Latin America was recorded, opening the market for Argentina.
He was the mastermind and leader of Global Meet 2006 during his tenure as the Advertising Director of Tourism Malaysia for more than a decade. Following in 2018, he was the Organising Chairman of the Pacific Asia Travel Association (PATA). He also went into In-Plant Training (Tourism) in Japan under the Look East Policy at Jalpak, a subsidiary of Japan Airline in Tokyo, Japan back in 1997.
An established leader who has been serving Malaysia's tourism sector for over three decades, Dato' Sri Dr. Abdul Khani is tasked to head the country's business events industry as he officially took office at MyCEB on 5 February 2020. However, he is no stranger to the national convention bureau as he has been serving MyCEB since 2017 as the Board of Director and Board of Trustees.
Dato' Sri Dr. Abdul Khani is a well-respected leader in the global business events and tourism industry. He has exhibited strong leadership qualities since joining MyCEB and has spearheaded various local and international projects, such as the Meet in Malaysia campaign, which has generated an estimated economic impact of RM1.05 billion for the country from year 2020 – 2022. Additionally, he created the 3R (reset, restart and responsible) initiative, which aimed to help industry players achieve maximum success. This resulted in supporting the participation of 19 industry players in international tradeshows, assisting 50 professionals in obtaining Certified in Exhibition Management (CEM), and helping 114 local partners retain their local and international association memberships.
He also played an instrumental role in the ease of travel to Malaysia where he had formed Business Events Special Lane at major airports to ensure smooth entry process, and MySafe Business Events Planner; a digital planner to assist and guide international business events planners and organisers. He was the driving force behind the 10-year plan, the Malaysia Business Events Strategic Marketing Plan 2021 – 2030 which forecasted by the year 2030, business events are expected to contribute RM42.12 billion in estimated economic impact whilst creating around 25,833 total employment.
Dato' Sri Dr. Abdul Khai has guided the organisation through several reinventions, including working closely with various ministries to track all business events activities that are taking place in the country. This includes some major events organised by the different ministries such as Langkawi International Maritime and Aerospace Exhibition (LIMA), Malaysia International Halal Showcase (MIHAS), and others. In that respect, MyCEB will be able to gauge the overall figure of the business events economy. As part of global movement, he led the Bureau in joining the Hybrid City Alliance together with other 21 cities around the world and formed Asia Convention Alliance together with Thailand, Taiwan, and Korea. These two initiatives are aimed at strengthening the business events industry for Malaysia and for the region.
On behalf of MOTAC, we would like to thank Dato' Sri Dr. Abdul Khani Daud for his tremendous contributions throughout his tenure with the Ministry. His journey spans 33 years in Tourism Malaysia before being eventually entrusted to revamp the Islamic Tourism Centre. Not long after, Dato' Sri Khani's highly regarded expertise and experience was proven to help bring positive impact to the business events industry during his appointment to oversee MyCEB. Under his able and astute leadership, he has contributed tremendously to elevating every organisation to which he was appointed. This is evident in what we see today: the three organisations represent a prominent contributor to Malaysia's tourism industry scene, which in turn has uplifted Malaysia's economic landscape immeasurably. We would like to thank Dato' Sri for his exemplary and inspiring service to the Ministry, tourism industry, and most importantly, to the nation. We wish him a blessed and fulfilling retirement, sated with the satisfaction and knowledge that the achievements and works he has established will leave a lasting legacy."
YB Dato Sri Tiong King Sing, Minister of Tourism, Arts and Culture (MOTAC) Malaysia
"Malaysia's business events industry is held at a high regard with the leadership of an integral numero uno. On behalf of World Trade Centre Kuala Lumpur (WTCKL), we would like to humbly thank Dato' Sri for your allegiance in uplifting the business events industry scene in Malaysia. He has undertaken a jubilant job in rebooting the industry post-pandemic whilst creating ever-lasting legacies to be shared with the industry stakeholders as a whole. This is an embodiment of a great leader, and we are honoured to be part of this journey with you. Congratulations on your retirement and may your augmentation live on."
Dato' Sri Dr. Hj. Irmohizam, Group Managing Director of World Trade Centre Kuala Lumpur (WTCKL)
"Since the establishment of MyCEB, our relationship has never been closer under the leadership of Dato' Sri Dr. Abdul Khani especially during the dire pandemic situation of the business events industry. His efforts to fight for the survival of the industry were well appreciated by all today. As we turned around for the better, Dato' Sri Khani spurred the momentum to take the industry to a greater scale to stay relevant and resilient. He is a man with a clear vision to continuously take the country a notch higher that ensured Malaysia is established as a world renown destination for business events convergences. With that, we humbly extend our grateful gratitude for your vast contributions to all stakeholders of the industry. We would like to wish our heartiest congratulations on the remarkable career and have a well-deserved retirement."
Francis Teo, President of Malaysian Association of Convention and Exhibition Organisers and Suppliers (MACEOS)
"MyCEB has been AFECA's focal point of contact and we are appreciative for their assistance all these while, which is commendable. As the exhibition industry has progressed over the years, this segment has tremendously grown into a favourable component of the business events industry, and this was only made possible under the leadership of Dato' Sri Dr. Khani. Despite taking over the national bureau in the peak of the pandemic, Dato' Sri has given his fullest cooperation and commitment to the business events industry and players to ensure the BE industry was reopened and indeed it was on a vibrant scale, locally. This has given a positive impact and the resilience projected ensured a consistent profile of international exhibition shows in the country post pandemic. His attributes to continuously shake the ground are highly admired and for that, we thank you for your wonderful service. On behalf of AFECA, congratulations to Dato' Sri on your resounding success and an outstanding career, and we wish you a wonderful retirement journey ahead."
Dato' Vincent Lim, Board Member of Asian Federation of Exhibition and Convention Associations (AFECA)
"It is with a heavy heart that we must bid farewell to one of the most eminent movers and shakers of the business events industry in Malaysia. ICCA has had a long-standing relationship with MyCEB for the international association meetings industry. Upon Dato' Sri Dr. Khani's election as ICCA BOD Asia Pacific Region that concluded its term last year, I was granted the opportunity to visit the national bureau's office in Putrajaya, Malaysia to thank Dato Sri for lending his kind service and expertise. Upon my visit, it is evident to witness that Malaysia's positioning is held at a great standing under his leadership and for that, we would like to thank you for your endless support and drive towards the association as well as this lucrative industry. We wish you the greatest success in your future endeavours and congratulations on this high regard retirement."
Senthil Gopinath, Chief Executive Officer of International Congress and Convention Association (ICCA)
"Together with Dato' Sri Dr. Khani, IECA and MyCEB have initiated a trailblazing change under a successful partnership between two neighbouring countries. This movement was only made possible through an inspirational leader, Dato' Sri Dr. Khani himself. Malaysia's business events industry is truly blessed with one of the world's most prominent leaders and it is our pleasure on behalf of IECA to witness this progressive change. The movement initiated has encouraged us to move forward and exchange support between our regions to further uplift the business events industry. It only fair to share that this incredible figure will surely remain exemplary for the industry and for that, we would like to wish you congratulations on the highly deserving retirement."
Hosea Andreas Runkat, Chairman of Indonesian Exhibition Companies Association (IECA-Asperapi)
Penafian!
– Artikel yang disiarkan dan dikongsi di laman web MyPermohonan serta artikel berkaitan dengan
"A Significant Loss for the Global Travel and Business Events Sector"
adalah ringkasan daripada sumber asal. Pihak kami tiada kaitan dengan agensi kerajaan, syarikat ataupun pengeluar posting asal. Untuk maklumat lanjut sila ke halaman
Penafian
.