Lazada, Southeast Asia's pioneer eCommerce platform, is going above and beyond this year for its 11.11 Biggest Sale of the Year, offering over a billion LazCoins on its site during the renowned annual shopping event. The sale, which will take place from November 11 to November 13, 2023, will allow customers to enjoy an extended festive weekend of shopping with fantastic offers and discounts.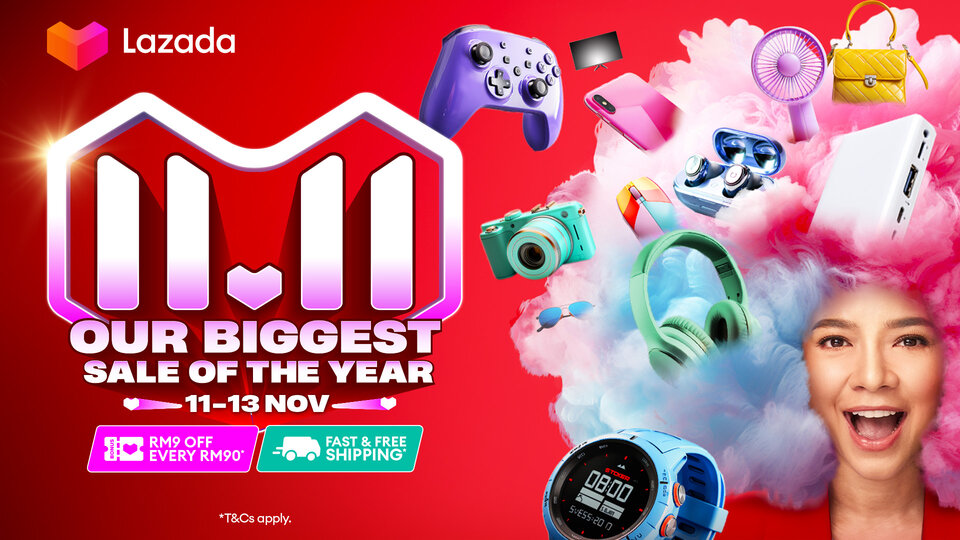 Over 1 Billion LazCoins Up for Grabs
Shoppers in Malaysia can expect jaw-dropping value and incredible savings during Lazada's 11.11 Biggest Sale of the Year with more than a billion LazCoins up for grabs, which can be used to attain discounts and the lowest prices on tens of millions of products across the platform. On a daily basis, one in three customers actively leverage LazCoins to maximize their savings while placing orders across Southeast Asia.
Earning these bonus LazCoins is easy. Users simply need to check-in to LazCoins channel on the Lazada App daily from 1 until 13 November to enjoy a supersized collection of LazCoins compared with the usual amount.
By maintaining and completing the 13-day streak, shoppers will be able to effectively collect up to 1,640 LazCoins (worth RM16.40) for free, which can be redeemed for additional discounts on eligible products, on top of other existing rebates they can already enjoy during the sale, such as platform and store vouchers, Free Shipping, and much more. Additionally, customers who log on to the Lazada App throughout the sale period may also receive a random, surprise drop of LazCoins.
Diligent users looking to maximise their LazCoins collections can also acquire more coins by writing reviews on the products that they have purchased, completing missions on the Lazada App, or even playing games like Merge Boss or GoGo Match. Gamification with LazCoins rewards is a primary driver for customers to be continuously and actively engaged throughout their shopping journey. The surge in engagement on the app not only leads shoppers to the discovery of new products on Lazada, but is also a driving force behind the exceptional 7-day in-app retention rate, which is close to 100%.
Guess and Win to Shop Free for 11 Months
Leading up to 11.11, Lazada also has more surprises in store for shoppers, starting with a special giveaway on social media. Kicking off on 1 November until 10 November, this 10-day social media contest offers Lazada's followers on Instagram the opportunity to guess the sale price of a selected item daily.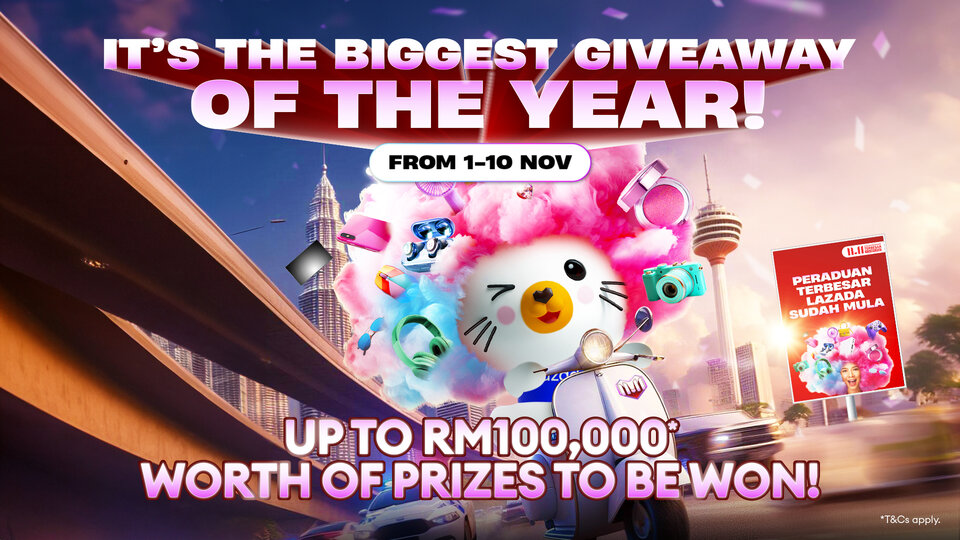 To join the contest, participants simply have to comment in the post with their estimate of the item's sale price. The first 11 people to guess the price correctly or most accurately stand the chance to win the item of the day, which spans various categories including health & beauty, home & living, fashion, electronics, and more.
One lucky winner who correctly guesses the price of all items across all 10 days will be able to win the Grand Prize of RM11,000 worth of shopping. In total, there are over RM100,000 prizes to be won from brands such as Cosmic Cookware, Dyson, Estee Lauder, Fossil, Kinohimitsu, Lazada Adventures, LEGO, Nescafe, OGAWA, and POCO.
Plenty of Value to Enjoy Before 11.11

While consumers can already start adding their shopping to cart from as early as 1 November or even Chup Dulu* by paying a small deposit to secure the best deals before 11.11, there are also early Today Only Deals* that shoppers can already checkout and enjoy awesome offers from 1 to 10 November. With a diverse selection of groceries, household supplies, mother & baby goods, and more from brands like Anakku, Enfagrow, Kellogg's, Julie's, and Tong Garden, consumers can already start saving on the essentials before the sale starts.
Moreover, there is a Super Voucher Hunt for 11.11, where consumers who crack the codes below can claim exclusive vouchers via the Lazada App. These hidden vouchers can be collected by entering the completed keywords into the search bar on the app and then can be redeemed exclusively on 11 November.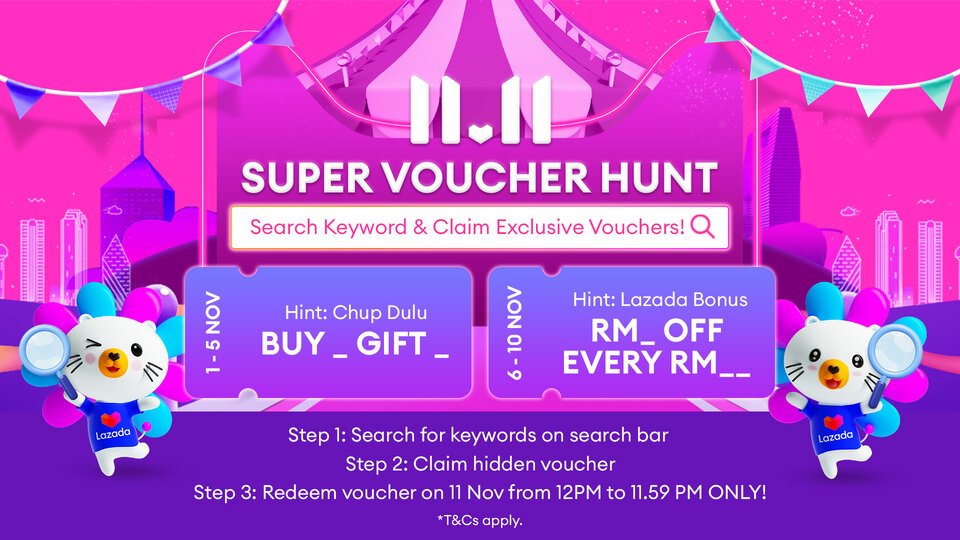 Claim the Hottest Brands on Lazada

When 11 November rolls around, shoppers can finally checkout their carts to enjoy a bulk saving on their purchases with Lazada Bonus*, which rewards consumers with an RM9 discount on every RM90 spent. Lazada Bonus is available to collect from 1 November until the end of the sale and can be enjoyed on a wide range of products across the platform.
This year, Lazada's 11.11 Biggest Sale of the Year unveils the Ha11 of Fame* (Hall of Fame), featuring an ever-revolving selection of 11 exclusive seller deals from 11-13 November. Renowned brands such as DJI, LEGO, L'Occitane, MAC, Nike, Ogawa, Shiseido, Skechers, and Xiaomi among others will take the spotlight, showcasing a selection of must-have deals with discounts of up to 80% off on toys, make-up and personal care, footwear, and apparel.

If you're on the hunt for the lowest prices on Lazada, Mesti Beli Deals* promise a plethora of incredible bargains and exclusive prices from stores on both LazMall and Marketplace, where shoppers can nab significant savings on highly sought-after products, including but not limited to the Sony PlayStation 5, Dyson Airwrap, LEGO Icons Jazz Club Building, OGAWA RetreaX Massage Chair, GINTELL S3 Superchair, Roborock Q Revo Robot Vacuum, 70mai A500S Dashcam, and more with discounts of up to 80%.

Furthermore, don't forget to mark your calendars for the Crazy Brand Mega Offers*, occurring daily from 11 to 13 November, between 12am and 2am. During this period, you can enjoy discounts of up to 90%* on LazMall brands like Aesop, Bose, Lacoste, La Mer, GETHA, Ray-Ban, Pandora, Samsung, Sonos, Jo Malone, and others. Even if you miss the opportunity, Brand Mega Offers* are still available around the clock with markdown of up to 70%* off, so you can save on items such as skincare from SK-II, luggage from Samsonite, footwear from Clarks, sound systems from JBL, or even clothing from Levi's.
Maximising Your Savings
In addition to brand promotions and exclusive discounts, shoppers can explore other incredible offers such as LazFlash Extra* deals with more than 50% off on popular, trending, must-have items – the lowest prices guaranteed. Free Shipping* vouchers can also be collected across the app, either via the Free Shipping or Voucher channels, cracking the Lucky Egg, or playing Lazzie Star. With Free Shipping vouchers, shoppers can save up to RM20 on their order deliveries.
Lazzie Star during this 11.11 will reward users with Golden Banknotes from 1 to 13 November, which can then be redeemed during the sale to claim attractive prizes, gifts, LazCoins, vouchers, and more. Earning Golden
Banknotes is simple, one just needs to check-in daily, complete daily missions, or play games like Merge Boss on the Lazada app and complete Special Orders in the game. Completing the Merge Mission in Merge Boss also entitles players to redeem a daily giftbag prize.
It's almost time for Lazada's 11.11 Biggest Sale of the Year! Start adding items to your cart now and be ready to checkout at 12am sharp on 11 November to seize unbeatable prices, massive discounts, and thrilling surprises that will be sure to add to your life.
For more information on the Lazada 11.11 Biggest Sale of the Year, check out the Lazada app or click on this link. More deals and details are available in the attached addendum.
________________________
* Terms and conditions apply.
Penafian!
– Artikel yang disiarkan dan dikongsi di laman web MyPermohonan serta artikel berkaitan dengan
"1 BILLION LAZCOINS ARE AVAILABLE TO BE WON DURING LAZADA'S 11.11 LARGEST SALE EVENT OF THE YEAR"
adalah ringkasan daripada sumber asal. Pihak kami tiada kaitan dengan agensi kerajaan, syarikat ataupun pengeluar posting asal. Untuk maklumat lanjut sila ke halaman
Penafian
.